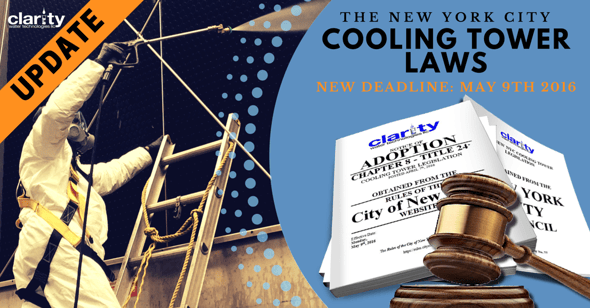 Attention New York City Building Owners!
If you own or operate a cooling tower in New York City, hopefully you are past the point of still asking the question: What is legionella? Most likely you are already well aware that you had to have your Cooling Tower Maintenance Plan on-site as of March 1st, 2016. However, you may not be aware that, as of April 7th, 2016, New York City has adopted a new Chapter 8 to Title 24 of the Rules of the City of New York and it gives very specific requirements that you need to fulfill in order to comply with Local Law 77 of 2015. The new Chapter 8 (Cooling Towers) has an Effective Date of Monday, May 9th, 2016 and the penalties for non-compliance are significant.
Here are the most pressing parts of the newly adopted legislation that you need to know:
Were there any differences between the PROPOSED version of Title 24 - Chapter 8 and the final rules that were ADOPTED on April 7th, 2016 and that go into effect on May 9th, 2016?
Yes, but just a few things. The major differences are as follows:
1. The PROPOSED VERSION originally called for DAILY water quality testing that included pH, temperature, conductivity and free and total biocide residual. This is to ensure that your cooling tower water treatment program is being administered at the correct ranges.
The ADOPTED VERSION has scaled back the daily testing requirement to testing "At least three times each week, provided that no more than two days pass without such measurement when the cooling tower system is operating." This means that you could test on Monday, Wednesday and Friday and skip Saturday and Sunday.
2. The PROPOSED VERSION originally asked that a 90-Day inspection be performed by a "qualified person," but it did not require that an initial inspection be completed upon start up. So the first 90-Day inspection would have come approximately 3 months after a seasonal cooling tower was operational.
The ADOPTED VERSION requires that "Before seasonal startup of a system that has been fully shut down, perform a pre-startup inspection by a qualified person." This would be the equivalent of your 1st 90-Day inspection of the year and would have to be accounted for in your Annual Certification.
3. The PROPOSED VERSION had a "Subsection d" in Section 7 (regarding Records) entitled "Enforcement" that said "Failure to immediately provide a report or record required by this Chapter upon the request of the Department shall be considered prima facie evidence that an inspection or other required action was not conducted or performed."
"Prima facie" evidence means evidence that is sufficient to establish a fact or raise a presumption unless disproved or rebutted. In simple terms, under the initial proposed version of this law, if you couldn't immediately produce a required report or a record, it would be automatically assumed that the work was not conducted, and therefore, you would be automatically found guilty of breaking the rule.
The ADOPTED VERSION completely removes this provision; presumably meaning that the Department may give you an opportunity to procure a report or record that had been misplace or is otherwise missing.
4. The PROPOSED VERSION of Chapter 8 of Title 24 had a table that identified 4 levels of potential bacteriological test results and the corrective actions that a team must take for each one of the levels. These were broken down into dipslide results and legionella test results with level 1 being the least dangerous and level 4 being most. Without going into great depth, the biggest difference here is in the dipslide test or Heterotrophic Plate Count result required to hit Level 4 – the worst level. In the PROPOSED VERSION you would have needed to see more that 200,000 CFUs or "colony forming units" per milliliter of water.
The ADOPTED VERSION requires that you have more than 1,000,000 CFUs in a plate count or dipslide test before your reach Level 4. This is most likely due to the fact that this law is intended to combat legionella. While a cooling tower that has high biological activity is technically more likely to have legionella present, it is not a definite by any stretch of the imagination. In fact, it is not uncommon for a cooling tower that tests very low for overall biological activity (such that you would see on a dipslide test result) to test positive for legionella. One has very little to do with the other; however, if you are treating to keep overall bacteriological activity low, you are most likely doing a fairly good job of preventing legionella.
The New York City Cooling Tower Testing Requirements seem very restrictive. How does my on-site team manage it?
The minimum water quality parameters that your team must test for at least three days per week are pH, temperature, conductivity and biocide residual. These test results must be kept in an ongoing log book that is kept on-site and should be made part of your Cooling Tower Maintenance Program and Plan. Many property managers and building owners are concerned about someone on their staff conducting these manual tests properly; but in reality, there is little cause for alarm.
There are many test kits that can be found in the market with varying degrees of accuracy and difficulty. At Clarity, we supply our New York City clients with a Cooling Tower Compliance Test Kit which includes everything that they need to properly and easily perform their required tests. We pretty much take all of the guesswork out so testing takes just a few minutes a day. If you want more information, check out our New York Cooling Tower Test Kit:
What do I need to have in place today to be compliance with the New York City Cooling Tower laws?
While there are many parts to the State and City Cooling Tower Laws, the follow is a list of the major components to being compliant:
Your cooling towers MUST be registered on both the New York City Cooling Tower Registration and New York State Cooling Tower Registration
Your New York City Department of Buildings Cooling Tower Registration Number MUST be posted on a sign or plate that is securely fastened to the cooling tower. You should have one number per cooling tower on your property.
Your Cooling Tower Maintenance Program (also known as a Water Management Plan) MUST be in place. This plan needs to be developed by a "qualified person" and is required to be

on-site

by March 1st, 2016.
Your cooling tower water treatment program must be in place at the time of startup. Your program must comply with your NYC Cooling Tower Maintenance Program and it must utilize daily automated blow down control and chemical feed.
Your cooling towers MUST be cleaned and disinfected in accordance with your Maintenance Program and ASHRAE Standard 188 within 15 days of start-up.
You MUST have a qualified person perform a pre-startup inspection and take a legionella sample prior to starting up your cooling tower this cooling season. The sampling dates and test results must be entered in the log section of your Maintenance Program and Plan.
You MUST have testing supplies on-site and someone on your team must be trained to and responsible for taking manual water quality tests at least three times per week and biological tests at least once per week. The water quality test results must reflect pH, temperature, conductivity, and biocidal indictors present in the cooling tower (open condenser) water.
Why do I need a Water Management Plan (a Cooling Tower Maintenance Program)?
The New York State and New York City Cooling Tower Laws are intended to prevent future legionella outbreaks and the backbone of these laws is a provision that requires each building owner to have a Cooling Tower Maintenance Program in place by March 1st, 2016. The program must be developed by a qualified person (like water treatment companies or environmental consultants) and must incorporate the principles of good water treatment and legionella prevention. It must comply with the requirements of Chapter 8 of Title 24 of the Rules of The City of New York and must be written in accordance with sections 5, 6 and 7.2 of ANSI/ASHRAE Standard 188-2015.
The Maintenance Plan must be kept in the building where a cooling tower or cooling tower system is located (or in an adjacent building or structure on the same campus, complex, lot, mall or on-site central engineering division) and must be made available to New York City Inspectors for examination upon and at the time of a request. Failure to produce this document is punishable by fines that start at $1000 per occurrence.
In a nutshell, your Maintenance Plan is the program that you are going to follow to ensure that your cooling towers are running safely and at peak efficiency.
What is the requirement for cleaning and disinfecting my cooling tower in New York?
To comply with Chapter 8 of Title 24 of the Rules of The City of New York, the cooling tower system must be cleaned whenever routine monitoring indicates a need for cleaning, but no less than twice a year, in accordance with the Cooling Tower Maintenance Program and Plan. At a minimum, a qualified and licensed professional must clean and disinfect a cooling tower that has been shut down or idle for more than five days, before the system started up again. Cleaning and disinfection must be done no later than 15 days before the first seasonal use of such tower. The "cleaning protocol" indicated by the manufacturer's instructions or industry standards (like ASHRAE Standard 188), and worker protective measures, as required by applicable law must be specified in the Maintenance Program and Plan.
Any person who performs the cooling tower cleaning and disinfection, or applies biocides in a cooling tower system in general, must be a Commercial Pesticide Applicator or a Pesticide Technician Certified in accordance with the requirements of Article 33 of the New York State Environmental Conservation Law and 6 NYCRR Part 325, or a Pesticide Apprentice under the supervision of a Certified Applicator. Only biocide products registered with the New York State Department of Environmental Conservation may be used.
Can I just have my Water Treatment Company hyper-chlorinate my Cooling Tower before start up?
This is trick question. The answer is technically "yes;" but that doesn't preclude you from having your cooling tower cleaned twice per year.
The answer this riddle lies in the understanding that a "disinfection" and a "cleaning" are really two different things. According to various acceptable industry standards, in order to disinfect a cooling tower, you must use a halogen based biocide and you must maintain a specific level of it over a specific length of time. That is what defines "a disinfection;" essentially – "Is everything in the water dead?"
The problem with this is two-fold:
In order to kill all biological growth in a cooling tower, you must be able to get to it. That means getting to all the water contact areas such as the basin, sump, fill, spray nozzles and fittings, drift eliminators and air intake louvres. According to the law, they must be properly accessed or removed to facilitate cleaning; but this also means getting through biofilm. Biofilm (also sometimes called bioslime due to its slimy texture) is a material that microorganisms secrete in order to protect themselves. It is very hard to penetrate with chemicals alone, and therefore must be physically agitated for the disinfection chemicals to hit its targets.
Section 8-06: System shutdown and start-up; commissioning and decommissioning cooling towers says that the Maintenance Program and Plan must include detailed seasonal and idle period startup procedures for either

fully

cleaning and disinfecting, draining to waste and disinfecting, or sufficiently hyperhalogenating the recirculated water before startup.
Some people may assume incorrectly that this means that they can either hyperchlorinate or fully clean their towers; and the can – but only as ways of disinfection before startup, not as a substitute of the twice yearly cleaning requirement.
So the best answer to this is: Yes, you can just hyperchlorinate your tower before start-up, however, you are still going to have to perform a full cleaning and disinfection at least twice per year, so you may as well use your system startup as an opportunity to perform one of them.
So remember – if you are the owner or operator of a Cooling Tower in New York, this part of NYC Cooling Tower law goes into effect on May 9th, 2016. Make sure that you are prepared! If you would like to read the entire Chapter 8 (Cooling Towers) of Title 24 of the Rules of the City of New York, you can download them at the link below. If you have any questions about these requirements of the New York City and State Legionella Laws, or if you need a Cooling Tower Maintenance Plan or Cooling Tower Cleaning before startup this season, please do hesitate to contact us at Clarity Water Technologies. We're always here to help!
Thanks for reading!
---
ABOUT CLARITY WATER TECHNOLOGIES

Clarity Water Technologies is known throughout the east coast as an innovative industrial/commercial water treatment company and the innovators of 360 Degree Legionella Management Service. To put it simply: As New York City's Top Environmental Consultants, we make commercial HVAC and industrial process machinery last longer and run more efficiently, with less fuel and less downtime, by chemically treating the water that runs through it. Typical systems that we treat include steam boilers, chillers and cooling towers; however, we also offer advanced wastewater, glycol services, odor control and fuel treatment services. We are one of Northeast's most trusted Legionella remediation companies and are widely accepted as one of the best consulting firms to establish best practices for the implementation of ASHRAE Standard 188 - Legionellosis: Risk Management for Building Water Systems.
As environmental consultants specializing in water treatment, we know that chemistry is only one part of what makes a cooling tower system operate at peak performance. The other part of the equation is proper physical cleaning, disinfection and maintenance. Today, Clarity offers one of the most reliable and effective cooling tower disinfection services available throughout NY, NJ, CT, DE, MD and PA. Clarity is a NADCA Certified HVAC Cleaning Service Company. Our team also offers on-line cleanings, chlorine dioxide disinfection, Legionella remediation and installation of the EcoSAFE Solid Feed System—one of the most advanced water treatment systems for Cooling Towers in the world! Please contact us today for a free estimate on your next project.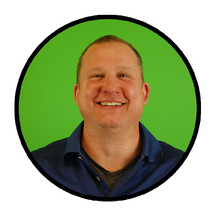 New York City Water Treatment Expert and Environmental Consultant, Greg Frazier has a vast knowledge of Industrial Water Treatment and is currently the Managing Partner of Clarity Water Technologies, one of the best Environmental Consulting firms in New York. Mr. Frazier has over 19 years of Industrial Water Treatment experience and holds a degree in Chemical Engineering from the University of Tennessee. Clarity Water Technologies specializes in comprehensive water treatment services. Clarity's service goes far beyond administering Cooling Tower Water Treatment chemicals - it also includes Cooling Tower Maintenance and HVAC Cleaning Services.