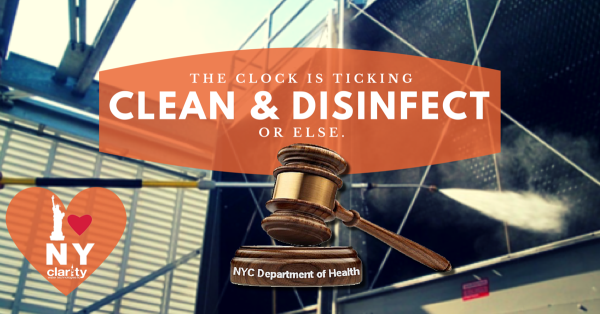 Legionnaire's Disease is a very serious matter and knowing where it comes from and how it is transmitted is a hot topic in New York City these days, especially in the South Bronx. At this point it is national news: Bronx residents and officials are very concerned about the Legionnaires' disease outbreak that has claimed ten lives and sickened more than 100 people so far.
As of today, Health Commissioner Mary Bassett issued a mandate that requires all owners of cooling towers to disinfect their towers within 14 days. The order applies to all people who manage or control water recirculating cooling towers in New York City, not just in the Bronx. According to the order, these individuals MUST clean their cooling towers if they have not been disinfected in the last 30 days. Building owners are also required hire environmental consultants. Failure to comply is a misdemeanor. We assume that the Health Commissioner's Office hopes this is motivation enough for building owners to quickly seek out and hire a cooling tower disinfection company.
Legionnaires' disease is caused by exposure to the bacteria Legionella. In most cases, people are exposed to the bacteria by inhaling contaminated aerosols from cooling towers, showers, faucets, hot tubs, or decorative fountains.
Bronx officials have reassured residents that they have the outbreak under control, but you can imagine how many people are still very nervous.
Bronx Borough President Ruben Diaz Jr. is calling for policy reform and insists that the city is not currently doing enough. In a recent interview with CBS News, Mr. Diaz Jr. said "I think these four individuals who died; their deaths could have been prevented."
To conclude, Mr. Diaz Jr. presented the question, "To prevent this from happening again, why don't we have regular inspections on cooling systems and water [cooling] towers throughout the city of New York in the same way that we do with elevators?"
President Diaz Jr's opinion resonates when highlighted with the facts about legionellosis and New City City's cooling towers. In a recent press conference, New York City Health Commissioner Mary Bassett explained that there are between 200 and 300 reported cases of legionellosis in the city every year, with individuals sickened by the bacteria living in all five boroughs. "This is the largest outbreak of Legionnaires' disease that we are aware of in New York City," Bassett said.
Is calling for regular inspections of cooling towers throughout the city enough?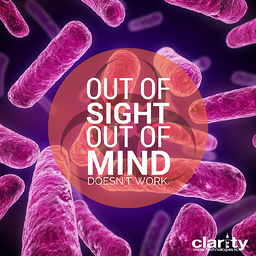 At a recent news conference held at Lincoln Hospital, one of the sites of a legionella infected cooling tower, New York City Mayor Bill de Blasio said the city intends to tighten regulation of cooling towers. "Legionnaire's has been a persistent health problem for years," said de Blasio. "For far too long, the risk of Legionnaires' was underestimated."
Regardless of Mayor de Blasio's intentions, today community leaders, residents and industry experts are criticizing the city for lacking the foresight to have more demanding inspection methods in place.
Pete Stempkowski of Clarity Water Technologies says that it is a step in the right direction, but will not completely take care of the whole problem, "A cooling tower presents the perfect environment for legionella bacteria to grow. If the tower is not properly treated, people that are exposed to its mist are in great risk of contracting Legionnaires ' disease; especially if they are very old, very young or have a weakened immune system."
"Over the past decade or so, there has been more legionella related stories in the news. I think it is because our medical community is becoming better at diagnosing it. But by the time someone is diagnosed with Legionnaires' disease, you can suspect that there was already a major ball dropped somewhere" says Stempkowski.
"We are one of the top environmental consultants in New York City and I see hundreds of cooling towers every year; I can tell you that Legionnaires' disease is preventable when someone actively takes the steps to prevent it," he explains. "It's not rocket science; it's very understandable chemistry. When building operations people follow proper water treatment protocol, this doesn't happen. Hopefully with new advanced technologies for preventing legionella in cooling towers and new standards, like ASHRAE's Standard 188, more property managers will become aware of the issue of legionella and take steps to prevent it in their buildings. If there is anything positive that comes out of this recent tragedy, let it be that building owner and operators become aware of the dangers of neglecting their cooling towers and that more of them do a better job of holding themselves accountable for the safety of their communities. "
Stempkowski was recently interview as Legionella Remediation Expert by NBC News in which he describes the issues with cooling towers and how Clarity Water Technologies uses advanced science to clean and disinfect them. See the video here:
What is different about the Summer of 2015? Why are there so many instances of Legionnaires' Disease?
According to the Center for Disease Control (CDC), each year an estimated 8,000-18,000 hospitalized cases of Legionnaires ' disease occur in the United States. However, accurate data reflecting the true incidence of disease are not available because of the under-utilization of diagnostic testing and the absence reporting actual cases. Legionnaires' disease is a common cause of severe pneumonia requiring hospitalization. The majority of reported cases are sporadic. Travel-associated outbreaks, outbreaks in community settings, and healthcare and occupational outbreaks are common. Essentially, people that contract pneumonia, may actually have Legionnaires' disease, but since they are relatively healthy and respond to antibiotics, they are never actually screened for the legionella bacteria.
Could it be possible that these numbers of Legionnaires ' disease cases have been happen all along throughout the city, but that they were misdiagnosed, or under-diagnosed, as just pneumonia? Has something changed in the protocol for screen patients that show signs of pneumonia in NYC?
According to the Infectious Diseases Society of America (IDSA), there are specific people that should be screened for legionella infection:
Patients who have failed outpatient antibiotic therapy
Patients with severe pneumonia, in particular those requiring intensive care
Immunocompromised host with pneumonia
Patients with pneumonia in the setting of a legionellosis outbreak
Patients with a travel history [Patients that have traveled away from their home within two weeks before the onset of illness.]
Patients suspected of healthcare-associated pneumonia
A simple urine antigen test is all that is needed to correctly identify the legionella bacteria in a patient. The sudden uptick in legionella induced pneumonia cases throughout the South Bronx is most likely cause enough for testing all current patients with moderate to severe respiratory issues for legionellosis.
What should you do about your cooling towers today?
Health Commissioner Mary Bassett and Mayor de Blasio issued a mandate that requires all owners of cooling towers in New York City to disinfect their towers within 14 days. If you own a building that runs a cooling tower in New York, you MUST clean and disinfect it immediately. If you do not currently have one, you are also required hire an environmental consultant. Failure to comply with this mandate in NYC is a misdemeanor.
"If you are a building owner or operator that is responsible for a building that has a cooling tower you need to take the steps necessary to make sure it is running safely," says Stempkowski. "The Department of Health's mandate forces the issue, but their is a silver lining. Aside from keeping your community safe, the great part about operating a clean cooling tower is that it is much more efficient than a dirty one. The side effect of keeping your towers clean is not just safety, but money and energy savings. Depending on the size of the tower, just a little bit of biological growth could cost thousands of dollars in decreased efficiency."
"The first step is contacting your water treatment service provider to make sure that they are properly testing and treating your cooling tower water." Stempkowski concludes, "If you suspect that your cooling tower is dirty, contact a reputable Cooling Tower Cleaning Company for an assessment. If you can't find one you trust, call us at Clarity. We have an impeccable reputation and we are quick to respond."
If you need the services of an environmental consultant, or if you need to have your cooling towers cleaned to comply with NYC's Health Commisioner's mandate, please request our free cooling tower legionella assessment below, or call us at 888-616-3545.
ABOUT CLARITY WATER TECHNOLOGIES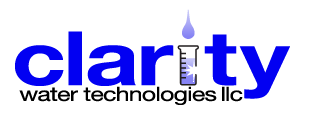 Clarity Water Technologies is known throughout the east coast as an innovative industrial/commercial water treatment company and the innovators of 360 Degree Legionella Management Service. To put it simply: We make commercial HVAC and industrial process machinery last longer and run more efficiently, with less fuel and less downtime, by chemically treating the water that runs through it. Typical systems that we treat include steam boilers, chillers and cooling towers; however, we also offer advanced wastewater, glycol services, odor control and fuel treatment services. We are one of Northeast's most trusted Legionella remediation companies and are widely accepted as one of the best consulting firms to establish best practices for the implementation of ASHRAE Standard 188 - Legionellosis: Risk Management for Building Water Systems.
As water treatment experts, we know that chemical treatment is only part of what makes a mechanical system operate at peak performance. The other part of the equation is proper physical cleaning and maintenance. Today, Clarity offers one of the most reliable and effective HVAC cleaning services available throughout NY, NJ, CT, DE and PA. Clarity is a NADCA Certified HVAC Cleaning Service Company. Over and above physical equipment cleaning services, our team also offers iron removal, on-line cleanings, chlorine dioxide disinfection, Legionella remediation and the installation of the EcoSAFE Solid Feed System—one of the most advanced water treatment systems for Cooling Towers in the world! Call us today for a free estimate on your next project or click the link above for more information.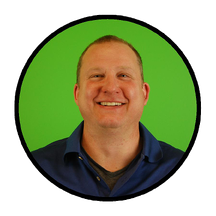 New York City Water Treatment and Environmental Consultant, Greg Frazier is an expert in Industrial Water Treatment and is currently the Managing Partner of Clarity Water Technologies, one of the best Water Treatment and HVAC Cleaning Companies in the North Atlantic Region of United States. Mr. Frazier has over 19 years of Industrial Water Treatment experience and holds a degree in Chemical Engineering from the University of Tennessee. Clarity Water Technologies specializes in comprehensive water treatment services. Clarity's service goes far beyond administering Cooling Tower Water Treatment chemicals - it also includes Cooling Tower Maintenance and HVAC Cleaning Services.