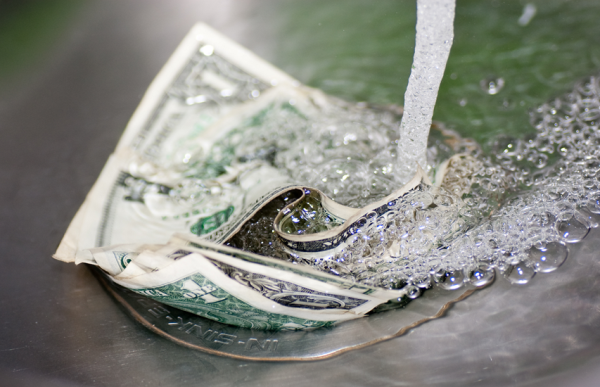 As industrial water treatment service professionals, we often hear the term "That's how we always done it." However, when it comes to treating the process water in a cooling tower, seasons change, water sources change, piping changes, loads change and chemistry changes. So why would anyone assume that the same setpoints that their cooling tower water treatment controls operated on years (or even months) ago would be exactly the same today? The way to be sure that a condenser water system is operating at peak efficiency and is balanced between reusing water as much as possible while simultaneously preventing scaling conditions from occurring cooling plant operators and water treatment service people to be mindful of two critical parameters: the Langelier Saturation Index (LSI) and Cycles of Concentration.
In the case of cooling water, Cycles of Concentration is the amount of times a tower recycles the water before it needs to be dumped (or blown down). In other words, it's the number of times that fresh makeup water can be used in the tower before the dissolved minerals cycle up to the point where they drop out of solution. Cycles of Concentration is normally defined as the ratio of the concentration of dissolved minerals in the recirculated cooling water to the concentration of dissolved minerals in the makeup water. It is commonly calculated by dividing the Tower Water Conductivity by the Makeup Water Conductivity. So if your tower water has a conductivity of 1,000uS and your makeup water to the tower has a conductivity of 100uS, then that tower is running at 10 cycles of concentration. Correspondingly then, every dissolved component in the makeup will be cycled up as many times as the conductivity in the tower water; like calcium hardness, alkalinity, and silica. It is the relationship between the Total Dissolved Solids (TDS), calcium hardness, alkalinity, pH and silica, and the temperature of the cooling water that will determine how many cycles can safely be run in the tower before precipitation into scale becomes unavoidable.
All traditional industrial water treatment scale and corrosion inhibitor programs designed for cooling towers utilize an equation known as the Langelier Saturation Index (LSI) to determine the tendency of water to form scale or cause corrosion. This equation uses the total dissolved solids, pH, alkalinity, hardness, silica of the makeup water and the temperature of the tower water to determine how many cycles a tower can safely run before it becomes too corrosive or scaling. The LSI Index ranges from +3.0 (extremely severe scaling conditions) to -3.0 (extremely severe corrosive conditions). Since one of the goals of an effective water treatment and energy management program is to reuse as much water as possible (and therefore run as many cycles as possible), the cooling water most that facilities deal with tends to fall within the scaling range. It is for this reason that most cooling water polymers and scale inhibitors that exist in the water treatment market today are designed to safely handle tower water in the +1.0 to +2.5 LSI range. Once water chemistry rises above the LSI range of +2.5, precipitation becomes unavoidable. (For the purposes of this post, I won't go into all of the parameters of the LSI equation, but there are now great Apps for your Smartphone that can quickly calculate your condenser water LSI on the spot without having to use complicated spreadsheets. While researching this post, I found a great LSI Calculator for my iPhone from By Verosocial Studio.)
To demonstrate how dynamic LSI can be when different components of the dissolved solids in the tower fluctuate, I have compared two real life water sources located in two different sections of NJ: one source has very soft water that can allow many cycles to be run without issue while the other source has very hard water and requires very careful monitoring to avoid damaging scale formation. First, we calculate the water sources LSI without any cycling:
| | | | | | | | |
| --- | --- | --- | --- | --- | --- | --- | --- |
| | TDS | pH | Alkalinity | Calcium Hardness | Silica | Temperature (⁰F) | LSI |
| NJ Location 1 | 100 | 7.2 | 20 | 25 | 5 | 50 | -1.530 |
| NJ Location 2 | 425 | 8.0 | 180 | 250 | 13 | 50 | +0.408 |
As we discussed before, most water treatment inhibitor chemistry works best at LSI's between +1.0 and +2.5. Already without any cycling whatsoever, Location 2 is already in a balanced environment while Location 1 is at an initial corrosive environment. Now let's run each water source through a cooling tower at 3 cycles of concentration and assuming the water temperature is now 85⁰F:
| | | | | | | | |
| --- | --- | --- | --- | --- | --- | --- | --- |
| | TDS | pH | Alkalinity | Calcium Hardness | Silica | Temperature (⁰F) | LSI |
| NJ Location 1 | 300 | 7.27 | 54 | 75 | 15 | 85 | -0.940 |
| NJ Location 2 | 1275 | 9.02 | 486 | 750 | 30 | 85 | +2.660 |
At just 3.0 cycles, Location 1 is still in a corrosive environment and would need to cycle up a few more times to arrive in a "safe" and balanced range while Location 2 is now just above the limit of +2.5 and is in a heavily scaling environment.
Based on the LSI readings of the makeup water source at Location 1, whomever is responsible for the water treatment program would need to run upwards of 12 cycles of concentration just to ensure that they have an LSI that just reaches a "+" reading or else they would be running the risk of corrosion in tower and/or condenser loop. In this example, running less than 12 cycles of concentration in the cooling tower also means you are not fully reusing the incoming water for the towers as efficiently as possible and therefore wasting money. It is literally "going down the drain."
For Location 2, the situation is exactly opposite. With water that scale-inducing, pH control via acid feed would need to be considered in order to conserve water as much as possible. Maintaining a pH of 8.5 while still running 3 cycles at Location 2 would yield an LSI of +2.15; which is in a range that would inhibit scale precipitation by water treatment chemistry. Keep in mind, the size of your tower system will determine how much acid you will need to store on site, which raises a whole other issue of safety concerns. It is up to the facility management and their water treatment partner to weigh the positives, negatives and feasibility of optimizing cycles.
Although this is merely a brief overview of what should be detailed analysis on a regular basis of any cooling tower water treatment program, keeping a close eye on your system's Langelier Saturation Index (LSI) and Cycles of Concentration is great way to monitor whether or not you are maintaining the balance between water conservation and potential scaling issues.